Bed and Breakfast by the Brooklyn Bridge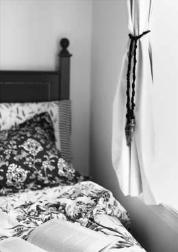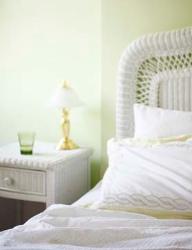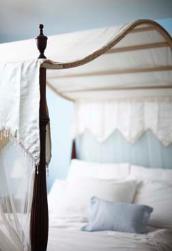 Photography courtesy of Sarah Ward

L-R: our Courtiers, Queen, and Canopy rooms

SORRY Escape Guesthouse is now CLOSE

Escape Blog
For Escape's older posts click
here.

5/30/13
Dear guests, potential visitors, and friends,

Today we wanted to provide you all with an update about how our garden is doing this summer. After
Sandy, a lot of our trellises and smaller trees experienced a bit of damages, but looking outside now, it
is easy to see that we are resilient as ever. We have a wide range of flora, and a much wider variety of
fauna than you may expect. Rocky (our housecat) must keep up with up to 70 different bird species plus
several guest appearances by his other neighborhood cat friends. We find that the most common birds
to spot are the Eastern Bluebird, Blue Jay, Robin, Cardinal, Double-crested Cormorant, House and
Field Sparrows, Northern Mockingbirds, and a wide spectrum of doves. The American Dove Association
brings to light a very important misconception city-dwellers may have: Doves and pigeons are one and
the same breed of bird, but there are many species which exist world-wide along a continuum of colors,
patterns, and sizes. So next time you go to kick a pigeon out of the way, you may want to think again and
give him an olive branch.
As far as our plants go, we have quite the fabulous array of flowers, bushes, and flowering trees. On
our sunny back deck we have freshly potted herbs such as Chamomile and Sage as well as some
roses and potted Verbena. Our first flowers to bloom, which are now past their season (sadly) were our
Daffodils and Forsythia. We are also growing some Morning Glories which open up before any of us
are awake in the morning. On a more overcast day, you are likely to see their blossoms wide open in
our heavenly relaxation garden and they may even make you forget that you are just a short jaunt to the
Brooklyn Bridge. For pops of color, we also have our pink Impatiens, Petunias and Violets. Our Peonies
are looking great right now and make a great bouquet with the Queen Anne's Lace. From the language
of flowers, these together symbolize sanctuary and a happy marriage.
For our privacy we have a variety of climbing vines and bushes. Our Arborvitae lines the southern end
of the garden and they are so tall that it is as if it is here that the city ends and the forest begins to take
over. Butterfly bushes are growing up in the front plot as well as out back alongside a smattering of
ferns and Japanese grasses. All gardening and yardwork is done by our lovely proprietor, Elizabeth
Kennick, who has been working on her exotic garden for over ten years.

Resources and suggested reading:
http://aggie-horticulture.tamu.edu/archives/parsons/publications/flowers/flowers.html
http://home.howstuffworks.com/morning-glory-vine.htm
http://www.doveline.com/html/dove-information.html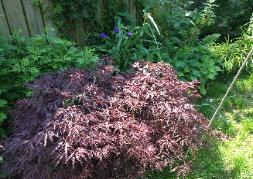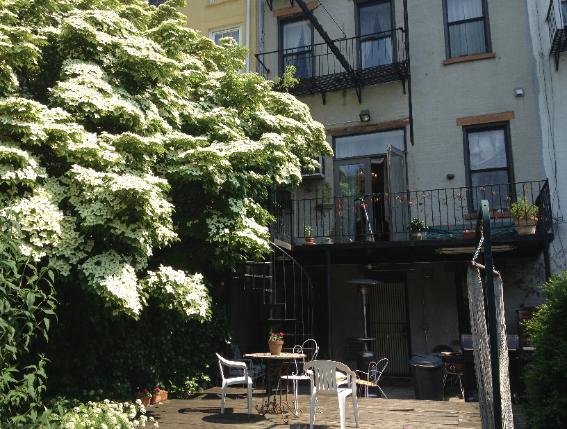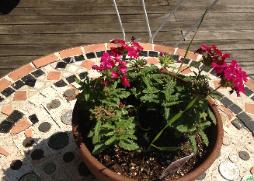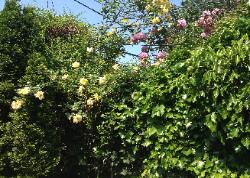 Escape Guesthouse Overview:


Built in the 1850s, our Brooklyn Bed and Breakfasts (an example of the 1850s
Italianate

architectural style
) is nestled in historic Boerum Hill, Brooklyn. Boerum Hill is an enchanting
residential neighborhood convenient to Brooklyn Heights, Ft. Green, Cobble Hill, Carroll
Gardens, Park Slope, and just a short ride or walk to lower Manhattan.

Stroll down quiet tree-lined streets or explore Smith St., Court St. and Atlantic Avenue for a
host of restaurants, boutiques, and everything from antiques to (frozen) zombies. If you're
visiting New York City and still wish to make yourself at home, then come experience our Bed
and Breakfast in Brooklyn, NYC for yourself. We are just a short ride or walk to the Brooklyn
Bridge, Lower Manhattan, Brooklyn Academy of Music (BAM) performing arts center, and the
new Barclays Center Arena, major concert venue and home of the Brooklyn Nets.

In 2003, Elizabeth purchased
1
68 Bergen St
and moved with her daughter Adrienne to
Brooklyn's Boerum Hill. The pair had often discussed a future plan: opening a bed and
breakfast "somewhere" in the country, anticipating an eventual departure from New York
City. However, as they discovered the quiet and eclectic charms of the Heights and Hills
area, the discussion took a new turn: what about right here?

In 2005, a friend came to stay for a few weeks and caught Elizabeth staying up late working
on the plans for the future B&B. The friend had one question:
When are you going to quit
planning and actually do it? You have an amazing house right here!


In 2006, after reading an article in the Brooklyn Paper highlighting the desperate need for
more lodging in Boerum Hill and the near-city section of Brooklyn, Elizabeth and Adrienne
refurbished two floors of 168 Bergen Street. The next year, they opened two more rooms to
provide greater flexibility and choice to guests who continuously sold out the house.

The name?
Escape.
The idea? To provide friendly, safe, comfortable rooms in a welcoming
house with lots of light and grace. Escape is a quiet retreat tucked just outside the hectic and
congested thoroughfares of Manhattan. The rooms hold a blend of modern and antique
furniture and artwork from around the world, but the effect is restful and casual. There are no
collections of cluttery Victorian furniture nor any installations of lace or ceramics.

Breakfast conversations change daily with the guests, though frequent topics are politics and
plays (both local and abroad). Escape has hosted orchestras, designers, actors, directors,
scientists, professors, artists, and authors from across the US and around the globe.

If you have friends or family coming to visit, or have ever wanted to explore the unique
charms of Brooklyn - from chef-owned restaurants and shops featuring local designers to
historic architecture and modern development - then Escape Guesthouse is the place for you!

Visit this Youtube link for a look into the guesthouse when we hosted a concert for Consider
the Source: http://www.youtube.com/watch?v=gsqJckExHGc